Tips for Using Your iPhone for Business
Last Updated on Wednesday, 16 March 2011 18:31 Saturday, 07 July 2007 09:54
Listings for
Tips for Using Your iPhone for Business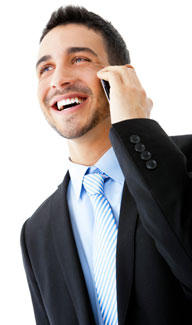 NewsUSA) – The Apple iPhone, one of the hottest smartphones on the market, has become an important tool for keeping mobile workers productive while providing freedom and flexibility away from the office.

 

Many mobile workers are leaving their laptops behind and conducting business right from the palm of their hand.

Here are some tips that can help you get the job done with an iPhone:

* Sync regularly. Think about every time you add a contact or an appointment to your iPhone. What if you lost that information? Syncing to your computer regularly can ensure that your information, including e-mails, is backed up and safeguarded should something happen. And while it only takes a few seconds to sync, replacing data could take hours.

* Stay productive. Need to view and edit a presentation or locate a document on another computer? Business applications such as LogMeIn Ignition for iPhone (www.LogMeIn.com/iPhone) enable iPhone users to access and work on their remote computers as if they were sitting right in front of them.

* Check the Apple Web site. There is an entire section on the Apple Web site dedicated to iPhone business use at www.apple.com/iphone/business/. It includes apps like currency converters, expense trackers, file management and organizational tools that can help you work efficiently while away from your desk.

* Extend your battery power. If you are gearing up for a long trip or meeting, preserve your battery life by shutting off your Wi-Fi, lowering your screen brightness and turning off your keyboard sounds. Switch your iPhone setting to auto-lock when you aren't working.

* Stay secure. Basic security measures like enabling your four-digit iPhone password can help protect sensitive data while minimizing the risk of high bills if it becomes lost or stolen. Always make sure to lock your device when it isn't in your hand.

For more tips on using your iPhone for business, check out "iPhone for Work" by freelance technology journalist and network consultant Ryan Faas, or "The iPhone Book: How to Do the Most Important, Useful & Fun Stuff with Your iPhone" by technology authors Scott Kelby and Terry White.
Cars
Last Updated on Monday, 14 March 2011 19:59 Saturday, 07 July 2007 09:54
Advertisement
----Ad Ends Here------------------------------------
Neglected Car Service Costing Motorists
In difficult economic times, it's natural to cut back on spending. But according to the experts at the nonprofit National Institute for Automotive Service Excellence (ASE), putting off automotive maintenance and service can cost you more in the long run.
Neglecting vehicle maintenance can cause small problems to grow into more expensive repairs. For example, failing to replace worn brake pads or a faulty oxygen sensor – both relatively easy services for qualified auto technicians – can result in an expensive brake rotor service or the costly replacement of the vehicle's catalytic converter. In addition, a well-maintained vehicle gets better gasoline mileage, pollutes less, is safer to operate and commands a better resale value.
A survey of ASE-certified master automotive technicians indicated that a well-maintained vehicle can last twice as long as a neglected vehicle. Yet, many drivers ignore or skip basic maintenance like oil changes, tire and brake services, wheel alignments, air and fuel filter replacements and transmission services.
Maintaining a vehicle begins with finding a quality auto repair shop. To help consumers choose a repair shop that fits their needs, ASE offers the following checklist:
•    Look for a neat, well-organized facility with vehicles in the parking lot equal in value to your own, and modern equipment in the service bays.
•    Look for a courteous staff. The service consultant should be willing to answer all of your questions.
•    Look for policies regarding estimated repair costs, diagnostic fees, guarantees and acceptable methods of payment.
•    Ask if the repair facility specializes or if it usually handles your type of repair work.
•    Look for signs of professionalism in the customer service area such as civic, community or customer service awards.
•    Look for evidence of qualified technicians: trade school diplomas, certificates of advanced course work, and certification by ASE. ASE-certified technicians wear blue-and-white ASE shoulder insignia and carry credentials listing their exact areas of certification.
•    Look for the ASE sign or logo; it means the shop employs nationally certified technicians.
Visit www.ase.com for car care advice and more. Or visit ASE at Facebook or Twitter.